Awarded to: Hallie G.
Providing at-risk youth an opportunity for a creative summer theater workshop program.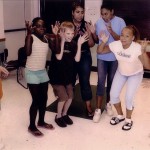 "I am interested in applying for your grant to achieve the goal of starting a theatre workshop/program for young people in the Saratoga Springs community. Ages 8-18 are invited to participate. I will use your grant to pay for an instructor to teach. My goal with this theatre program is to provide theatre classes for those who may not be able to afford theatre classes.
"I believe that acting and theatre is a way to escape the troubles of everyday life and put yourself in someone else's shoes, to be more than one person and be able to do things you may never do in one lifetime. It helps kids to act out their emotions without becoming violent or destructive to others or themselves. It keeps kids from just lying around and doing nothing and it will keep them out of trouble and give them something to look forward to every week. It will give them a chance to relate to other children and teens and I believe it will help them to like themselves more as an individual. This program means so much to mean and I am so happy to be the "head" of this idea and program and to develop my skills of community organization.
"The classes will be offered at a site in close proximity to the homes of local families who lack transportation to attend community programs like this.
"The workshops cover all aspects of acting, using body, mind and voice, skills useful in real life".