SARATOGA SPRINGS BLACK LIVES MATTER RALLY 

We can have our voices and presence be known to end systemic racism by attending rallies. Thank you to everyone who came out to support the Saratoga March Against Racist and Police Brutality on Sunday- Ciara, Rayvon, Mimi, Eliza, Gail and Ralph, Lezlie, Art and Julie, Katie and perhaps more of you that we didn't see. It was so hopeful to see 1000 people gather in our community for humanity, for equity, for justice for ALL.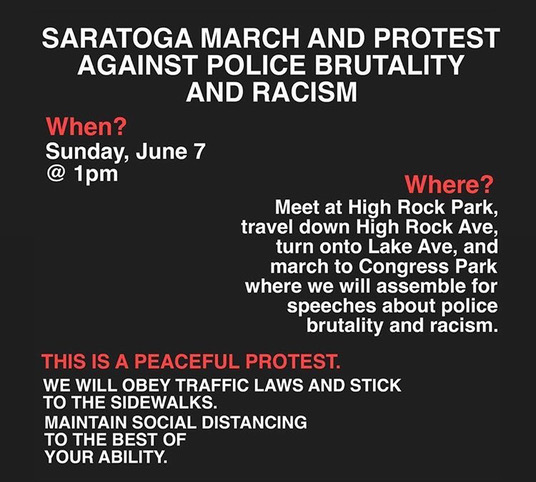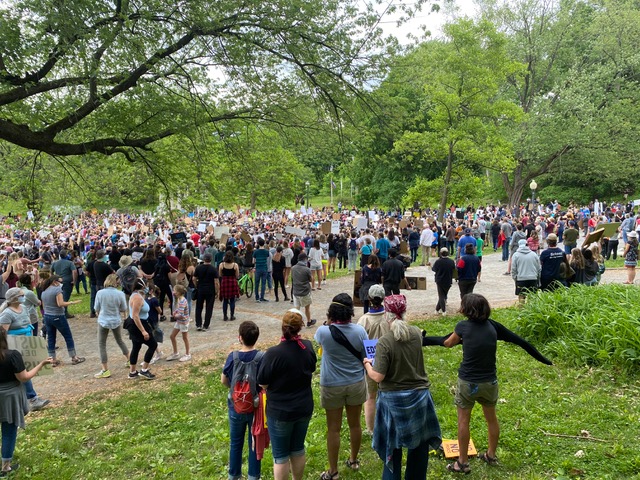 ---
Youth 2 's Graduation Day Celebration for Amalia and Mimi

Wednesday, June 3rd was a very special day as we celebrated the graduations of Amalia and Mimi.  All of us participating were struck by how these simple gestures of kindness and friendship in the midst of the pandemic and systemic racism are so important.  Met with tears and gratitude both graduates were surprised by our musical (a big thank you to our musicians, Jonathan and Peter) car parade, the good secret work of their mothers and the cards, treats and gifts we all thoughtfully put together.  Due to the high winds at Mimi's we couldn't get a good car shot that also had her name on it! It truly means something to be showered in thoughtfulness. Thank you to everyone!


---
SUPPORTING OUR NEIGHBORS AND LESSENING FOOD INSECURITY

The Board of Youth 2 made a decision early in the COVID19 pandemic to donate $5000 to the Franklin Community Center enabling them to increase their food purchases to feed our community. Written in their recent newsletter, "No one has been left behind during these uncertain times thanks to a community that has risen up to support us each day. Yes, we are seeing a huge increase in the number of people utilizing our food pantry, but the volume of donations we are receiving has matched it".
MAKING MASKS: Many people throughout the community have come together to make masks. A special shout out to Ellie and the MoonCatcher Project- as of May 14 th MoonCatcher volunteers have made and deliveredover 16,000 masks. www.mooncatcher.org
Volunteers are still needed to sew masks.
A special shout out to Lezlie Dana (moc.liamgnull@anadeilzel) for beginning the project, "Stitching Face Masks for Saratoga"- Lezlie has made 6 dozen masks for Saratoga Hospital, and sent 4 dozen to Buffalo VA Hospital. She has made an additional 50 personal masks for our community.



---
We are a Field of Interest fund formed under the guidance of the Community Foundation for the Greater Capital Region. Youth2 has been created to engage young people to think about issues that they care about and to create volunteer or social action projects for youth and by youth. Youth2 is committed to giving financial and thoughtful organizational support to help interested young people turn their ideas into realities.
Do you want to design your own volunteer project?
Do you want to be able to make a difference in the lives of youth in your own community or in the world?
Do you want to reach more people, but need matching funds to begin?
Did you ever wonder about how to get your project started?
---
Youth2-Youth Helping Youth Community Service Incentive Award 2020
Community Service Incentive Awards will be awarded to two deserving seniors who have shown exemplary community service during their four years of high school from Saratoga Springs High School, The Waldorf School of Saratoga, Saratoga Central Catholic High School, Ballston Spa High School and Schuylerville High School. The award will be $500 to each winner. The Youth2 Advisory Board will review applications and select the two winners. The due date for applications is Monday, March 2, 2020 by 5:00 pm. Click here for application. 
---
YouthSquared Participates in "March for our Lives"  on March 2018

---
Youth2 can help you! How can you get involved?
Tell a friend about us
Attend and support another person's social action project
Invite a Youth2 Advisory Council member to come and speak to your group or Organization
Give part of your babysitting money, or part of your birthday gifts as a Donation to Youth2
Tell your club leader about us
Get involved in a volunteer job by looking through the Book of Good Deeds, our collection of volunteer opportunities for youth
Add your organization to the Book of Good Deeds
Help out with events.
Apply for a Grant Now!